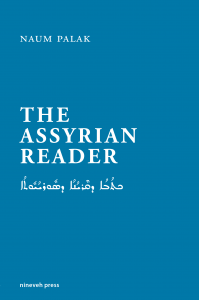 The Assyrian Reader is a small introductory book for beginners of the Assyrian (or Syriac) language by the late malphono Naum Palak (Faik). The book was intended for the Assyrian youth in the United States, why a translation into English is included. A few poems/songs by the author are also included, including the song Ettʿir men shentho (Awaken from sleep). The book was first published in the United States by the Assyrian National School Association (ANSA; commonly known to Assyrians as Taw Mim Simkath) in 1917.
Details
TITLE: The Assyrian Reader | AUTHOR: Naum Palak | PUBLISHED BY:Nineveh Press | PRINTED BY: Lulu Press | 6 x 9 inches, 62 pages | PUBLICATION DATE: July 2017 | ISBN: 978-91-983441-5-8 | PRICE: $9.99
Purchase
Purchase this book here.